SERV Vision team, INFLUENCERS, & MEDIA night
Thursday, Feb. 2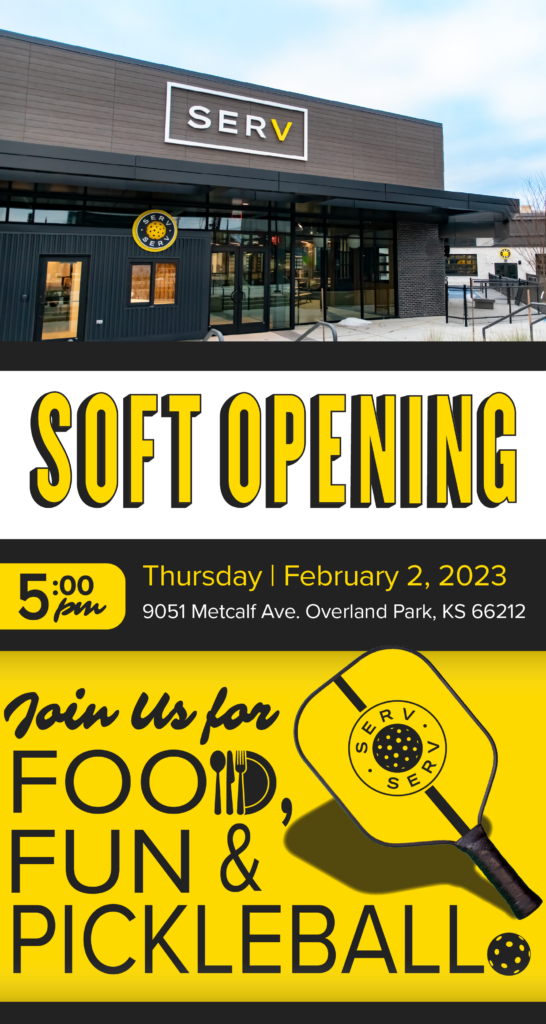 Please join us for an evening of Food, fun & pickleball!
We are so close to the grand opening of SERV, but before we open the doors to the public, we want to open our doors to you and show off everything we've been working so hard to bring to life! Everything this evening is free of cost, so don't worry about picking up the tab because we've got this one covered. Photos are encouraged, so take as many as you like! If you post anything online, please be sure to tag us. If you have any questions during the event, please feel free to grab a staff member, and they will be more than happy to answer them!
What to expect:
5:00 pm – doors open
Upon arrival, please check-in at the main gate
Entertainment by DJ Nick Davis
Complimentary Boulevard Quirks
Selections from our food and drink menus
Open pickleball play during the entire event
8:00 pm – the evening comes to a close
For those wishing to play pickleball, please come dressed in comfortable clothing.
To RSVP & Submit Your Waiver: Please click the yellow box below and follow the prompts. Deadline to RSVP is Wednesday, February 1, 2023 at noon! If you are bringing any additional guests, please have them RSVP using this same link.